Generation 4 Just Released!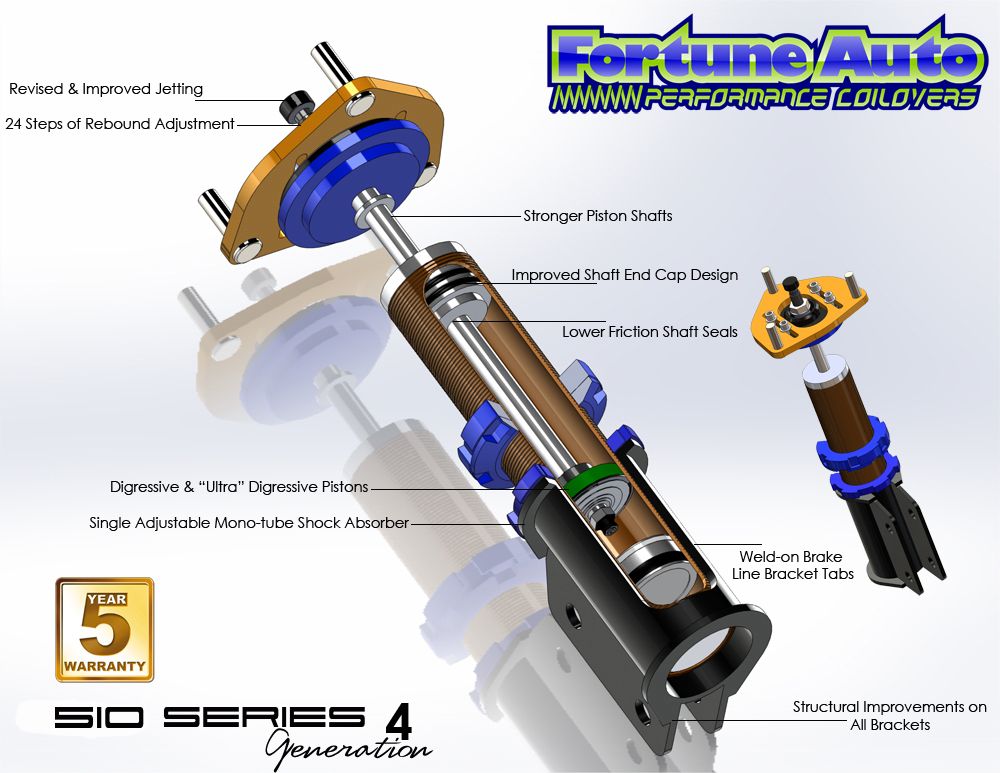 Featuring our new "Ultra" Double Digressive Piston (UDDP) with revised shim stacks, this "Ultra" Digressive piston allows for massive amounts of low speed rebound force that helps with driver inputs such as dive, pitch and roll. Furthermore, the rebound force greatly tapers off to provide the driver with a supple and compliant ride while maintaining superior mechanical grip over rough surfaces. After countless hours on the shock dyno and testing on the track, we are proud to offer these high performance coilovers that rival many high end European shocks that cost several thousand dollars more. 

                                Click here to see the new Ultra Digressive Valving profile of the 510 Series Version 4 shocks.
Assembled in the USA

Dyno tested

Dyno graph supplied with all 4 shocks

Mono-Tube damper with high pressure nitrogen
24-step rebound adjustable dampers
Spherical Bearings

Amsoil synthetic shock oil

(the ultimate in shock oil technology) 
6061 Forged & Anodized aluminum mounts and camber plates**

Height adjustment independent of pre-load

Compliant track suspension solution



Swift springs upgrade available 
Rebuild-able
Revalve-able
**Adjustable camber plates are included on MOST vehicle front applications with Macpherson Strut suspension configurations. Please consult our application list for more details.
STARTING FROM $1850 DELIVERED AUSTRALIA WIDE!